Are you fretting over the dirty house that needs to be cleaned as soon as possible? Does your office need appropriate maintenance and renovation? Do you often get worried when you see your living abodes in a mess? Wait dear ones! All your worries and troubles will evaporate in thin air once you hire the cleaning services ajman of Aimpests. 
We, at Aim Premium Services Pest Control and Building Cleaning, are extremely proud of our cleaning and maintenance services including house cleaning, office cleaning, industrial cleaning, upholstery cleaning, commercial cleaning, water tank cleaning and house-maid services. Our certified and dedicated staff is available 24/7 to make sure that your living and workspaces look as clean, fresh and renovated as newly built well-maintained places.
Industrial Cleaning Services
Industries are often run on huge businesses where large platforms and spheres are used to conduct everyday operations. Cleaning such large places is indeed a very hard task and the businessmen usually find no companies or cleaning organizations to undertake this tedious task. You have come to the right place by hiring the cleaning services of Aim Premium. At our company, your industries and business organizations are cleaned and renovated in the best possible way. We provide the following industrial cleaning services to our clients once they hire us:
Warehouse cleaning
Cleaning of manufacturing industries
Mopping and dusting the industrial floors
Washing of distribution centers
Laboratory cleaning
Sweeping of restrooms and site cafes
Loading and unloading the supplies on docks
Cleaning of storage areas
Janitorial services in industries
Emergency cleanup
General and deep cleaning
Cleaning of equipment rooms
Site childcare facilities cleanup
Cleaning of clothing and furniture industries
Industrial cleaning requires a thorough cleanup of the mess caused during the manufacturing of the products. From gathering the raw-material and lining up the essential commodities to making a product and renovating it, industries undergo a great mess that needs immediate cleaning. At Aimpests, we provide you with the excellent and satisfying experience of working in a well-maintained and well-organized setup that not only makes your employees happy but also fulfills the needs of your customers.
Commercial Cleaning Services
Commercial areas always remain over-crowded with people from different areas and backgrounds. They are the places where people go for work, shopping, enjoyment or infotainment. It is the reason that cleaning a commercial place is a very burdensome task. 
At Aim Premium cleaning services, we ensure that your commercial sphere looks as new and fresh as a well-organized structure. Whether you are looking for a one-time cleanup, hourly cleaning services, monthly package or yearly cleaning services, we are always ready to clean your commercial area according to your needs and demands. At Aimpests, we provide the following commercial cleaning services:
Corporate sector cleaning
Cleaning of public and private spheres
Commercial building washing
Government entities cleaning
Cleaning in cultural events
Exhibition wash up
General and Deep washing
Renovation of gym and fitness centers
Move-in and move-out cleaning services
Pre and post-construction cleanup
Cleaning up of schools, universities, academies and training spheres
Stain removal from commercial places
Cleaning of toilets within the commercial sector
Mopping of floors in shops and other retail outlets
Sweeping away the dirt and mud from the commercial areas
With these commercial cleaning services, we are proud to give our customers the experience of living, shopping and working in a commercial sphere devoid of spots and stains.
 From cleaning the schools to mopping the shopping sprees, Aim Premium commercial Cleaning services Ajman is available 24/7 on a phone call, website and online networking systems to provide you with affordable and feasible cleaning services on demand.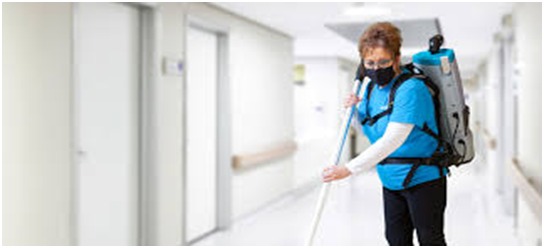 Every one of us is inspired by a neat, clean and well-maintained place. One's office is a sphere where one likes to work in a germ-free protected environment. The employees also feel fresh if they begin their work in a place that is well kept.
 A well-furnished and renovated workspace not only provides its workers with a comfortable space to work in but also guarantees a strong and healthy professional relationship among the employees. At Aimpests, we provide you an affordable office cleaning service that allows you to easily work in a cozy environment devoid of any dirt or mud. Our cleaning company provides you the following office cleaning services:
Corporate office cleaning
Removal of trash cans
Washing of window panes
Polishing of office furniture
Gym cleaning services
Deep cleaning of desks and toilets
Janitorial services
Office equipment cleaning
Removal of stains from floors
Office housekeeping service
Pre and post-construction cleaning
Cleaning of internal rooms of the office
Sofa cleaning in offices
Carpet Washing in offices
Mopping of official spheres
Cleaning and renovation of both public and private sectors
Aim Premium cleaning service is well-aware of the fact that a clean office inspires the people to work in it happily. When your trash bins are emptied, your floor is mopped well, your tables and chairs are dust-free, your toilets are well-cleaned and your glass panes are shinning like a mirror, you will surely love to live and work in that atmosphere. Keeping in mind these facts, we, at Aimpests, bring to you the office cleaning services which are at par with the best cleaning services in your area.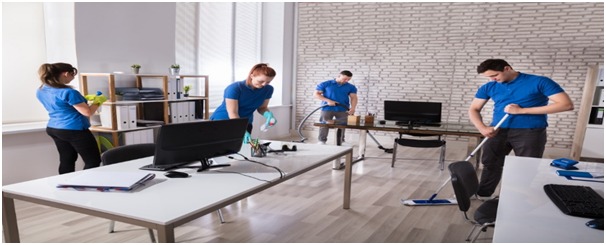 At Aimpests, we are well-aware of the fact that cleaning one's place and making it look new is a very tedious task. We also know that in this competitive environment, finding an affordable and feasible cleaning service is like finding a needle in a haystack. Do not worry anymore because we bring you one of the finest and the best possible services in town. We are a team of professionally committed personnel working day and night to give our customers reliable cleaning services at their doorsteps. Aim Premium Cleaning services Ajman does not believe in making their customers wait in long queues.
Our website is available all the time for our clients where they can book online appointments. Select the cleaning services they need to hire, clear their payments right away and enjoy their service within 24 hours of the appointment. With our well-trained staff and spotless cleaning services, you will experience and enjoy a cozy, comfortable, neat and clean atmosphere like never before.
Aim Premium cleaning company Ajman, are not like other cleaning companies available on your premises where you have to go through unnecessary trouble and pain to book an appointment. We know that there are many companies who charge a hefty amount from their clients in the name of cleaning services. We are also aware of the fact that cleaning companies generally have a long queue of customers waiting for their turn to get their services done. At Aimpests, we guarantee you that you will not face any such hazard or pain stacking experience.
We are an organization where hiring the best cleaning services is as easy and enjoyable as eating your favorite meal. You just need to log into our website, book an online appointment, get your payment cleared and our personnel will come right at your doorstep to provide you with an affordable and lucrative cleaning service of your choice.