Sanitizing and Disinfecting Services in Ajman
The modern world is a globalized world teemed with pollution, noise and a germ-filled environment. These pollutants are causing grave danger to the human society spreading diseases like Corona Virus, Tuberculosis, Malaria and Typhoid. With these diseases, the survival of the human race has been put in great jeopardy. Aim Premium cleaning and disinfecting services in Ajman is a proud name in sanitizing and disinfection, providing these top-notch services to its customers for years. We use certified chemicals, Dettol disinfectant wipes, various sterilizers, UV sanitizers and dorox disinfecting wipes to disinfect and sanitize your homes, offices and commercial spheres like never before.
At Aimpests, we offer the following sanitizing and disinfecting services in Ajman and to our Dubai-based clients:
With the wide spread of Ebola and Covid-19 during the past few months, it has become extremely important to disinfect one's public and private abodes. Decontamination of the surfaces by applying fogging technology makes your surfaces look neat, clean and completely sanitized.
This service is performed by filling the tank with a fogging machine with a disinfecting solution that disperses in the air as microscopic droplets. With this technique, all spheres are evenly sanitized and disinfected. This service is generally used to disinfect offices, hospitals, commercial areas and industrial buildings in Ajman.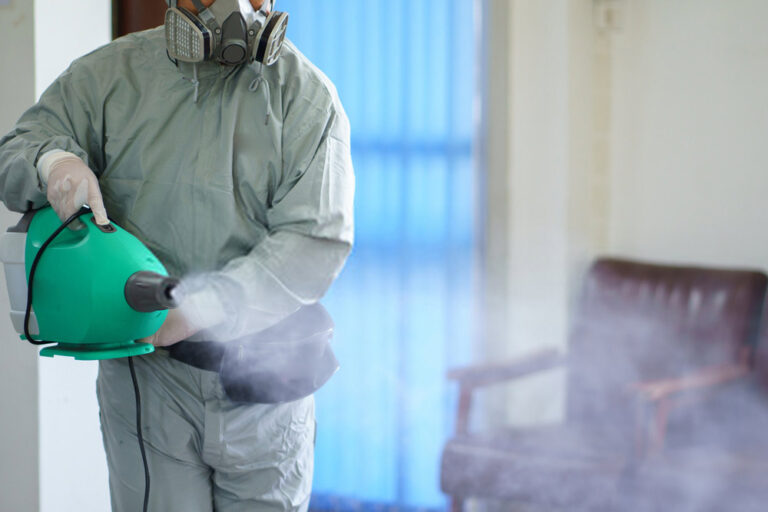 2. Vehicle Sanitization Service
It is a known fact that Coronavirus and Hantavirus remain on the surfaces for quite some time when a person comes in contact with them. For this reason, it becomes very essential to sanitize and disinfect cars, automobiles and other such surfaces. This service is performed as follows:
All the interior surfaces of an automobile are carefully vacuumed by our technicians.
The seats, mats, dashboard and steering of the vehicle are sprayed using detergents for the proper eradication of all kinds of viruses, germs and bacteria.
The exterior doors and trunk of the cars and buses are also disinfected using certified sprays.
The whole process takes up to 30 minutes to complete. This service ensures that all surfaces of your vehicles get sanitized and disinfected in a proper way.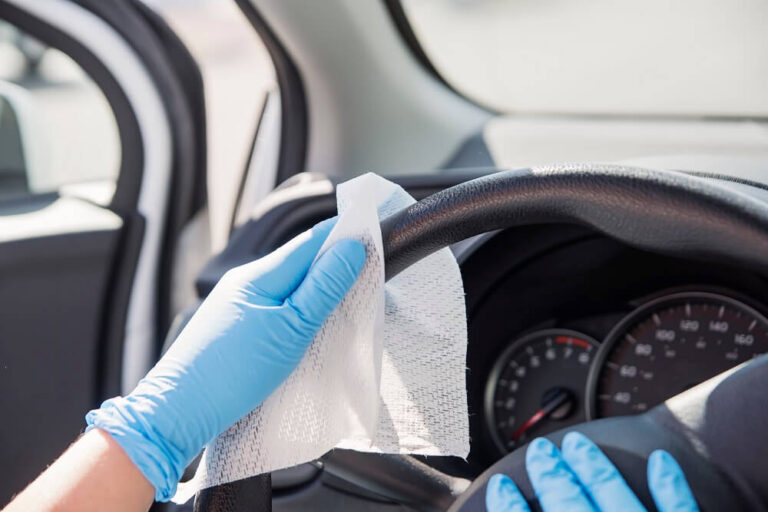 3. Air Duct Sanitizing Service
In this polluted atmosphere of today, no home, office or residential area is free from germs, viruses and bacteria. From Covid-19 to the Ebola virus, the diseases are spreading as rapidly as the flies gather around a jar of honey. For this reason, it becomes necessary to decontaminate and purify these spheres. The air ducts are disinfected by sanitizing the HVAC systems of the homes, offices and shopping sprees. The negative air pressure keeps the duct sanitized and disinfected for long. This method not only keeps the germs away but also sterilizes the air ducts for a longer period of time.
4. Electrostatic Disinfection
In this technology, an electric charge is given to the solutions and chemicals used to disinfect the conductive surfaces; both shadowed and underneath. This technique provides an even and effective coverage to the homes, offices and other abodes. Electrostatic disinfection is a very efficient sanitizing and disinfecting service against Covid-19, Norovirus, Ebola, Influenza A and Staphylococcus Aureus diseases.
5. UVC Surface Sterilization
This technology is used to decontaminate surfaces using a powerful 35 Watt UVC lamp which emits a wavelength of 254nm. The UVC surface sterilization technology protects the exterior and interior surfaces of houses, offices, commercial areas and industrial settings from germs and viruses like TB, E-Coli, different types of colds and flu, Salmonella and MRSA.
Steps taken before and after Sanitization and Disinfection
With germs, viruses, bacteria and diseases like the Coronavirus and Hantavirus, the process of sanitization and disinfection in Ajman has not only become essential but tiresome as well. Following steps must be taken to ensure a timely provision of sanitizing and disinfecting services:
Leave the area before it gets disinfected. Our certified staff will tell you when to enter the disinfected place again. This step will provide time for the microscopic droplets of chemicals to leave your rooms, kitchens and toilets.
The moisture from the chemicals destroys the entities so any such thing like a book, paper or any other sensitive material must be kept hidden before disinfection.
Clean your surfaces before they are sanitized by removing any pieces of dirt, mud or leftover food items.
Clean and dry the surfaces thoroughly once you reenter a disinfected place. It will keep you safe from the hazardous chemicals used during disinfection.
Kitchen and food preparation spheres must be wiped off thoroughly. Wash and rinse the dishes properly before using them again.
In today's polluted environment, getting yourself and your places sanitized and disinfected has gained immense popularity. With its unmatchable services and dedicated personnel, Aim Premium cleaning and disinfecting services in Dubai provides you with the best sanitizing and disinfecting services in your vicinity